cyrus
Site Admin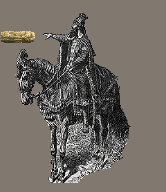 Joined: 24 Jun 2003
Posts: 4993

Posted: Fri Jan 27, 2006 11:18 pm

Post subject: US should retain military threat on Iran: McCain

---

US should retain military threat on Iran: McCain


By Evelyn Leopold

http://news.yahoo.com/s/nm/20060128/pl_nm/davos_iran_mccain_dc_1


DAVOS, Switzerland (Reuters) - The United States should keep the threat of using force against Iran as a last resort if it wanted leverage in the dispute over Tehran's nuclear program, U.S. Senator John McCain said on Friday.

McCain, a prominent member of U.S. President George W. Bush's Republican Party, told a panel at the World Economic Forum that Iran needed to be referred to the U.N. Security Council, even if no one knew whether sanctions would be imposed.

"We have to keep the military option as the last option but not take it off the table," said McCain. "Otherwise I am not sure how we have any significant leverage."

Washington and the European Union are trying to persuade the International Atomic Energy Agency to refer Iran to the Security Council over suspicions it is secretly trying to develop atomic bombs. Iran says its nuclear program is for power generation.

The Iran issue arose frequently at the forum of 2,300 business leaders, government officials and policy-makers, but no Iranian was visible at the gathering in Davos in the Swiss Alps.

"It's complex. There is no good option and it is probably the most difficult challenge we face," said McCain.

Former Australian Foreign Minister Gareth Evans, sitting in the audience, asked McCain if "you are going to make the same mistake twice," referring to the U.S.-led invasion of Iraq.

"You have a whole bunch of carrots in your pocket which could be employed," such as easing U.S. sanctions against Iran or resuming diplomatic ties, said Evans, now the president of the International Crisis Group think-tank.

Evans said many people around the world believed Iran was still in compliance with the nuclear Non-Proliferation Treaty, which allows the pursuit of peaceful atomic energy.

In response, McCain said Iranian President Mahmoud Ahmadinejad was "not interested in any carrots that I know."

"They're interested in acquiring weapons of mass destruction and dominating the Middle East," he said.

McCain appeared at a plenary session on Iran, Iraq, and the need to invest in alternative sources of energy with Senator John Sununu, a New Hampshire Republican, and former Virginia Governor Mark Warner, a Democrat.

Democratic Senator John Kerry, who arrived in Davos on Thursday, was supposed to take part but canceled his appearance.